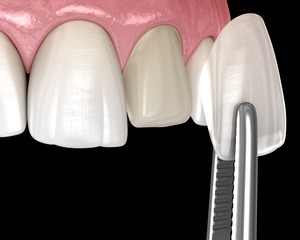 You've finally taken the first steps toward enhancing your grin by asking your dentist about the process of getting veneers. However, while they're explaining what you can expect to happen, you may be surprised to learn that you'll need to wear temporary veneers for a while before you can receive the final versions. Why are temporary veneers needed? And what do you need to know about wearing them? The answers to these questions can help you prepare for your smile transformation.
Why are Temporary Veneers Needed?
Simply put, the purpose of a temporary veneer is to keep the tooth safe. Before a veneer can be placed, a small amount of enamel needs to be removed. However, less enamel means that the tooth will be more prone to developing cavities or suffering from injuries. Wearing a temporary veneer can help you avoid problems until your dentist is ready to place the permanent one.
As a side benefit, your temporary veneer can give you a preview of how your smile will look once your cosmetic treatment is complete. This will give you a chance to take note of any adjustments you want before the final veneer is cemented in place.
What Can You Expect When Wearing Temporary Veneers?
Typically, you will wear temporary veneers for around two weeks. There are a few things you'll need to be aware of during this time:
The temporary veneers might not have gaps between them, which means you won't be able to floss in that area.
Certain foods could dislodge your temporary veneers from your teeth. It may be a good idea to cut hard, sticky, chewy, or crunchy foods out of your diet for the time being.
You might have trouble chewing due to the thickness of your temporary veneers. (The permanent veneers will be thinner in comparison.)
Due to the removal of your enamel, your teeth may be somewhat sensitive. Consuming anything hot or cold may cause some discomfort.
Remember that you can always speak to your dentist if you're having trouble with your temporary veneers.
Will the Final Veneers Be Worth It?
Many patients have found that having to wear temporary veneers was certainly worthwhile once they see how the permanent versions enhance their grins. Veneers are a great option for hiding cracks, stains, and other embarrassing dental flaws. They allow you to make multiple changes at once and can be relied on to deliver dazzling results. They can also last a long time provided that you're diligent about caring for them.
In short, when getting veneers, wearing temporary veneers is a necessary part of the process. Before you have them placed, make sure you're fully prepared by voicing any questions or concerns you might have to your dentist.
About the Author
By entering the dental field, Dr. Arash Vahid is proudly following in the footsteps of his father (a pediatric dentist) and his mother (an orthodontist). At AV Dental Associates of Ramsey, he loves having the chance to get to know his patients better and change their lives in a positive way. He can dramatically improve the appearance of your grin with personalized veneers. To schedule a consultation with Dr. Vahid, visit his website or call (201) 962-8452.