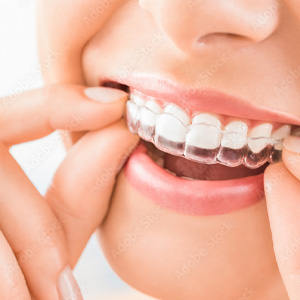 If you're looking for an alternative to conventional braces, Invisalign® could be the answer you have been looking for. Moreover it does wonders for straightening teeth.
The most trusted clear removable system is perfect for those with mild to moderate tipped and crooked teeth.
Invisalign® Straightens Teeth
AV Dental Associates of Ramsey NJ offers Invisalign® treatment, a clear and removable orthodontic solution that can straighten your teeth. Moreover there is little, if any discomfort.
Invisalign® uses a series of clear removable aligners made of dental grade plastic that are custom-designed for your teeth.
Unlike traditional braces that use wires and brackets to move your teeth, clear aligners are virtually invisible and more comfortable to wear.
With Invisalign®, you don't have to worry about food getting stuck in your braces or about avoiding certain foods altogether. You can remove the aligners when you eat and brush your teeth, making it easier to maintain good oral hygiene during your treatment.
Invisalign® also offers a shorter treatment time compared to traditional braces. While the duration of your treatment may vary depending on your specific needs, most patients achieve their desired results in 12 to 18 months.
Invisalign® Dentist in Ramsey NJ
Dr. Arash Vahid at AV Dental Associates of Ramsey NJ can determine if removable braces are right for you. Your Ramsey Invisalign® dentist will evaluate your teeth and discuss your treatment options. This includes the benefits and limitations of Invisalign®.
If you decide to proceed with Invisalign® treatment, Dr. Vahid will create a custom treatment plan that includes a series of aligners designed to gradually shift your teeth into the desired position.
You will wear each set of aligners for about two weeks, and then switch to the next set in the series. You will need to visit AV Dental Associates of every six to eight weeks to monitor your progress.
Perfect for Mild to Moderate Issues
Invisalign® is a great option for adults and teenagers who want to straighten their teeth without the hassle of traditional braces.
If you're interested in clear aligners, contact AV Dental Associates of Ramsey NJ. Schedule a consultation with Dr. Vahid is the first step. The team is ready to help you turn your smile upside down.
For the best in treatment you won't find a better solution than AV Dental. To find out more schedule an appointment. Better yet try the virtual smile tool only available from Dr. Vahid and his team.