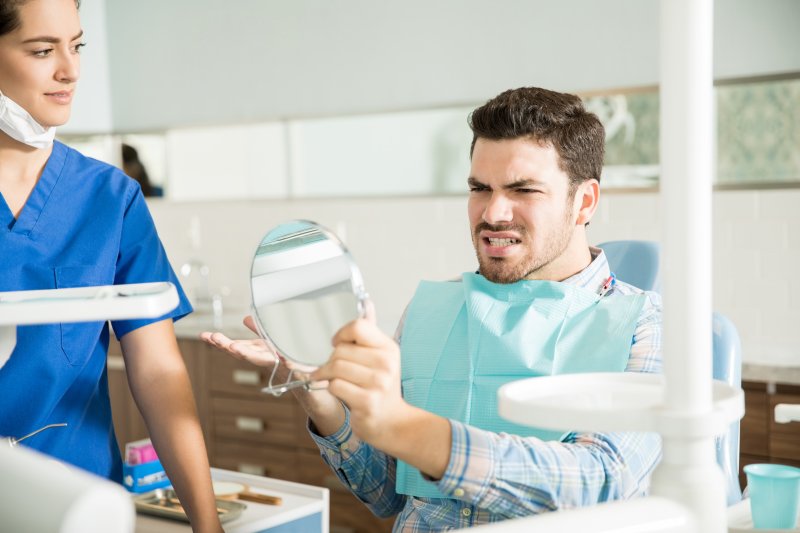 When you think of smile flaws, you likely imagine visible marks. After all, the worst grins tend to be those with stains, chips, and cracks. However, blemishes aren't the only imperfections a smile can suffer. Sometimes, pearly whites may seem "stubby" or too short for your mouth. These teeth can then make you too nervous to smirk. Fortunately, cosmetic dentistry has ways to address this issue. As proof, here are the causes of small teeth and cosmetic treatments that fix them.
The Possible Causes of Small Teeth
In general, small teeth stem from two possible causes: genetics and tooth erosion.
Sometimes, a person is born with microdontia – a condition in which teeth are smaller than normal. A biological issue, it's a defect that often runs in one's family. That said, the problem can also be caused by genetic mutations, developmental issues, and radiation exposure.
Short teeth may result from gradual wear and tear too. In those cases, the erosion is usually due to teeth grinding or dental injuries. A dentist will usually recommend treatment to prevent further damage.
How a Cosmetic Dentist Can Fix Them
Fortunately, cosmetic dentists have various ways to make teeth look longer. Based on your situation, these procedures can include:
Metal-Free Dental Crowns
As you might know, a dental crown is a cap that covers a tooth's damaged area. Because it fits onto your pearly white's top, though, it can also help the treatment site seem longer.
Of course, short teeth aren't the only thing metal-free crowns address. They also improve oral health and appearance by fitting snugly over your tooth. The cap's material keeps bacteria out while also looking beautiful.
Cosmetic Dental Bonding
Cosmetic dental bonding is best known for covering up tooth chips and cracks. However, its tooth-colored resin can also add bulk to your tooth enamel. The result would be an increase in the size of your teeth.
Best of all, the bonding process is very low-hassle. In exchange for an affordable price and a one-hour visit, it'll give you results that can last for years at a time.
Porcelain Veneers
Put simply, veneers are thin, porcelain layers placed on the fronts of teeth. Dentists typically use them to correct smile flaws like stains, chips, cracks, and even misalignments.
Besides their other benefits, though, veneers can also help teeth appear longer. Dentists can customize them to extend past a tooth's original surface.
As you can see, small teeth aren't unsolvable. With the proper treatment from your cosmetic dentist, an improved smile can take their place.
About the Practice
AV Dental Associates of Ramsey is based in Ramsey, NY. Led by Dr. Arash Vahid, our practice strives to give each patient the best dentistry possible. We thus perform preventive, cosmetic, and restorative work tailored to your unique smile. Our team is also well-trained to handle dental emergencies, offering procedures like root canal therapy and tooth extractions. For more information or to book a visit, reach us on our website or call us at (402)-423-1616.