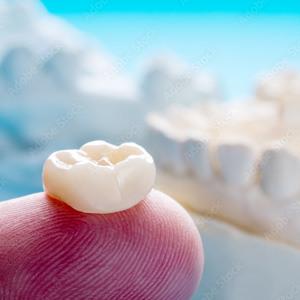 If you are thinking about buying dental crowns online because it's a, "Quick Fix," reconsider. Your Ramsey dentist's office is the only place you should go if you want same day crowns.
In this day and age it's easy to buy nearly everything online. However, that isn't always a good thing especially when it comes to cosmetic dentistry.
Cosmetic Dentistry from your Dentist
According to Dr. Arash Vahid the last place you should go for any type of cosmetic dentistry products is your social media feed.
Even something that sounds as simple as tooth whitening can get you into trouble if it is prescription based.
Only an educated and qualified cosmetic dentist can correctly place veneers, fillings and same day crowns.
AV Dental Associates of Ramsey has the education and passion for continued education always keeping up with the latest when it comes to dental products and services. That of course includes same day crowns.
What are Same Day Crowns?
Using 3D technology, this type of restoration offer the same strength as conventional caps but only take a single dental appointment to place.
With CAD/CAM technology and a 3D printer Dr. Vahid is able to provide you with a strong and beautiful dental crown. Using single unit custom parts, this technology is also used for veneers, bridges, inlays, abutments, on-lays and of course, dental crowns.
Same Day Dentistry Benefits
3D printed and CAD/CAM designed crowns are more durable
All restorations are custom designed to fit
Same day crowns look more natural than metal or metal to porcelain
No need for messy dental impressions
The restorations fit perfectly with no need for follow up visits
You save time and money
As you can see same day restorations are better options whether you are short on time or just want to save some money.
Because you won't need multiple visits you'll save money and also time. You know the old saying, "Time is money."
Custom Made Dental Crowns
Custom made same day crowns are remarkable and the best way to get the job done. Trying to do it yourself will only end up costing you more in the long run.
Dr. Vahid is an expert cosmetic dentist who gets it right the first time. That will never happen if you purchase same day crowns on the internet.
If you would like more information schedule an appointment. AV Dental Associates is ready to give you the same you deserve.