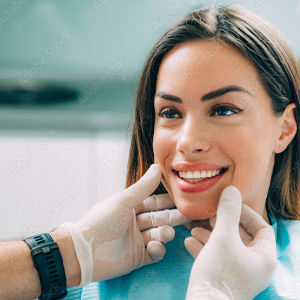 If your smile isn't doing you any favors schedule an appointment for cosmetic dentistry with a dentist in Ramsey.
Cosmetic dentistry delivers fantastic results and for some all that is needed is a simple in office tooth whitening session or cosmetic crown.
Dental Associates of Ramsey has the experience and technology to give your teeth and gums a boost whether you are missing a few teeth or have stains that won't budge.
Cosmetic Dentistry Beautiful AND Healthy
Dr. Arash Vahid believes in healthy smiles that are esthetically pleasing as well. For some people that means a complete mouth makeover. Other patients may do better with veneers or cosmetic crowns.
The only way to know if you and cosmetic dentistry are a good fit is to schedule a consultation in Ramsey NJ.
With an eye for esthetics AV Dental Associates will examine your teeth and gums along with your chewing system to determine what procedures would be best.
For example, if you have mildly tipped or crooked teeth Invisalign could be the answer. On the other hand if you are missing teeth dental implants will most likely be recommended for your unhappy smile.
Why Healthy Smiles Matter
According to your Ramsey dentist teeth that are straight and free from decay are easier to take care of.
If you have ever had a chipped tooth you will remember, or still know, or hard it is to brush much less floss.
Having a straight and healthy smile also makes things better for other teeth. Just one missing tooth will make the opposing tooth move into position. You can only imagine what happens with multiple missing teeth.
Crowding is another issue when it comes to missing teeth. Cosmetic dentistry and dental implants in Ramsey NJ take care of all of those problems and more.
Ramsey NJ Dental Implants
As a dental implant doctor in Ramsey NJ, Dr. Vahid will recommend the best implant system for your particular needs.
Some only require a single implant while others need an entire mouthful of new teeth. Whatever you need AV Dental Associates of Ramsey is up to the task.
Ramsey Cosmetic Dentistry
If you are unsure of what you want done and don't want to venture into Ramsey try the virtual smile design tool. It's the easy way to get recommendations for restorative and cosmetic dentistry.
Try the virtual smile design tool or schedule an in person cosmetic dentistry consultation in Ramsey NJ today.