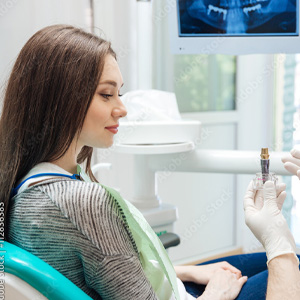 Dental implants are quite possibly the best invention known to mankind. These tooth replacements are the best because they allow people to live a normal life without compromising other teeth and overall health.
Dental Implants for Most
Dr. Arash Vahid has helped thousands of people fill the gaps with single, dental and multiple implants.
In fact, this Ramsey NJ implant dentist even offers patients Teeth in a Day with All on 4s. What that means is that most people are excellent candidates for this type of tooth replacement.
With All on 4s you can have a mouthful of missing teeth in the morning and a mouthful full of natural looking artificial teeth in the afternoon.
Unlike dentures and bridges dental implants, whether single, multiple or complete, will allow the bone to regenerate. This means your other teeth won't be as likely to move and shift either.
Dental implants are the healthy way to missing teeth and while dentures and bridges are certainly better than nothing they cannot compare.
A Consultation to Be Sure
When you schedule a consultation with Dr. Vahid and his team you will talk about your oral and overall health along with what you expect from dental implants.
For most people this type of tooth replacement is the perfect solution. However, for some implant failure could be an issue if lifestyle changes aren't included into the equation.
People who smoke and those who aren't good with oral hygiene have a high risk of dental implant failure.
Thankfully with some dedication and the help of your Ramsey dentist, both of these issues are an easy fix. All you need to do is quit smoking, improve brushing and flossing techniques and see AV Dental Associates more often.
Periodontal disease is the number one reason people lose teeth. Ironically it is also the number one reason for implant failure.
Failure and Those at Risk
Although poor oral hygiene is high on the list when it comes to periodontal disease it isn't the only reason people suffer.
For some gingivitis and periodontal disease are hereditary while for others it can be a direct result of tobacco use. Both chewing and smoking cause dry mouth and impede healing making implant failure 90% more likely.
Ramsey Dental Implants Dentist
If you would like to learn more about dental implants check out the book written by Dr. Arash Vahid and schedule an appointment.
Once you do you will realize that dental implants really are the best replacement. Send a direct message for a consultation in Ramsey today.